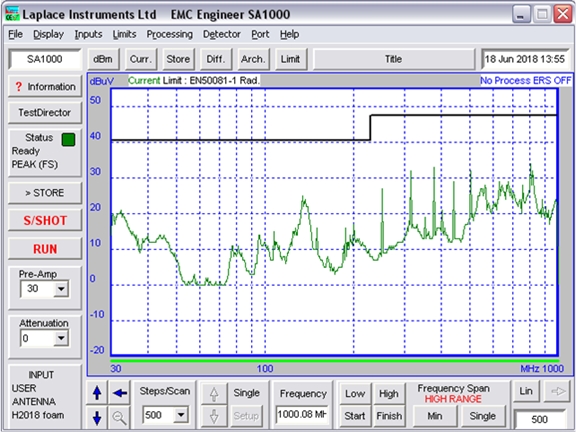 Initial RF Emission Testing
The Rayzig system has been designed and developed to give the user the most flexibility possibly.  Rigorous testing to meet the requirements of European and UK legislation has also been undertaken to ensure the safety of user and environment.
The principle legislation that Rayzig is required to meet is that of the CE regulations for 'Building Automated Control and Home and Building Electronic Systems – BACS and HBES regulations.
The various CE requirements dictate that products are tested in a number of areas based on the target markets to ensure they are safe and fit for purpose.
The BACS / HBES Testing required testing in the areas of RF, EMC, ESD and LVD, as well as Environmental tests – such as Temperature and Humidity, vibration and drop tests. The results have shown that the modules comply with these and the company has been able to issue Declaration of Conformity for its' modules .
Many of the tests were carried out in specialist facilites based in the UK, sometimes with multiple visits to ensure that all aspects of the tests were completed satisfactorily. The environmental tests were carried out in our own Environmental Chamber.
The full results of the testing are contained within the Technical File which is kept for Regulatory monitoring.
A summary of the results many be made available on request. The declaration of conformity and test report are located within the Documentation Section.