Rayzig has a number of modules which combine to provide a functional system. 
Processor Sub Board
The processor sub board provides communications and processing on a
single board which can be used within other modules. This can be used
standalone as the engineering module, or used within the AC Input module, the DALI and 0-10v Dimmer Module, the Wire-Bridge, IP-Bridge and the Gateway. The board has either an integrated PCB Antenna, or an SMA connector for external 2.4GHz antenna.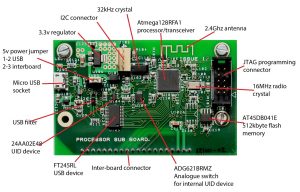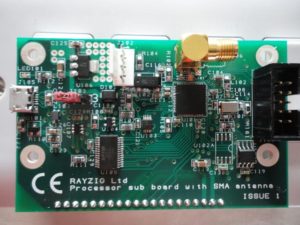 Input Modules
A Battery Input module provides 4 pairs of input buttons which can be
configured to operate On/Off, Zone, Theme or Home/Away functions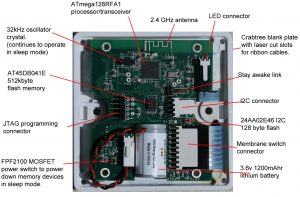 A membrane switch can be provided with easy inserts to provide a simple mechanism for labelling the button functions. Alternatives, such as the Scolmore Click Momentary Switches could be used.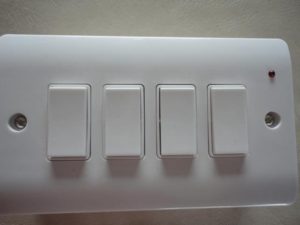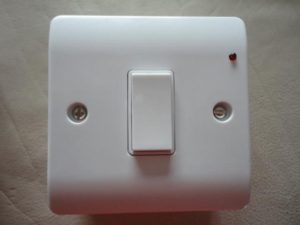 The development of the Battery Input Module PCB has allowed other options providing input to be considered. Work on using different sensors to interface with this board allow a number of options to be pursued. Any new modules will be shown once they have been tested for the relevant EN Standards.
The AC board, provides 16 pairs of buttons – each of these can be
configured to control On/Off, Zone, Theme or Home/Away functions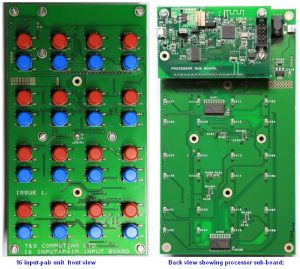 Gateway
The gateway provides an interface between the Rayzig network and a LAN. This allows access from the Raymon software suite.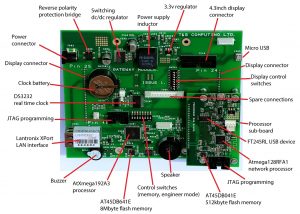 Each module talks to the others by using an ATMEL ATMega processor with inbuilt 2.4GHz transceiver utilising Atmel's LWMesh.
Output Modules
The Relay Output module provides 4 separate 16 Amp relays, giving the ability to control 4 individual electrical circuits. (The overall load on the unit is limited to 10 Amps, with a 10 Amp fuse fitted to the unit).
There is also a single relay module which gives a much smaller footprint, and allows the possibility of being incorporated within luminaires.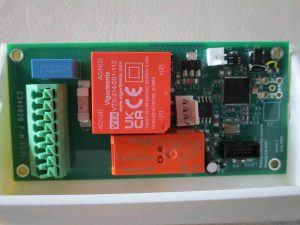 A Triac module, with a single channel provides a small form alternative to the relay module. This is still to be tested – alas chip supply delays will hold this up.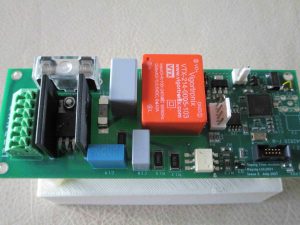 Engineering Module
This standalone Processor Sub-board (PSB) module is used to provide initial configuration programming and is attached to other Rayzig modules to carry this out. It attaches to a PC via a micro USB connection, and is operated through the Raymon software.
DALI Master Module
DALI provides the ability to control up to 64 luminaires from  a Master module. The Rayzig DALI Master provides wireless control as part of the Rayzig Network to allow long cabling runs to be reduced, whilst retaining the local DALI infrastructure. Raymon provides DALI configuration, where scenes, groups, ID's, and levels can all be set, additional benefits from Rayzig provide scheduling and home / away in addition to the DALI setup.
(Rayzig DALI Master is not a replacement for a DALI Application Controller and is used to provide an interface to 16bit DALI Output modules only. The Rayzig DALI Master is not registered as a DALI compliant device – it acts as a bridge from Rayzig to DALI).
0 – 10V DIMMER Module
The Rayzig 0 – 10V Dimmer module provides a 4 port dimmer unit which can be used with suitable luminaires or other devices which accept control via a 0 – 10v supply. The 4 ports provide independent control for each of the devices attached to the Module.
Wire Bridge / IP Bridge Modules
Where distances and topography are such that a wireless network could not be operated, two bridge modules are available. The Wire Bridge uses a 4 pair, CAT 5 / 6 cable to link two WireBridge modules over a distance of upto 500m. The distant sub-net location can be accessed from the central location, through the Bridge. There can be upto 6 sub-nets on a central Rayzig network, and traffic will operate from a sub-net through the main Rayzig network then onto another sub-net.
Operations of the IP Bridge are similar to the WireBridge except it can operate over a IP Network using an IP Tunnel.